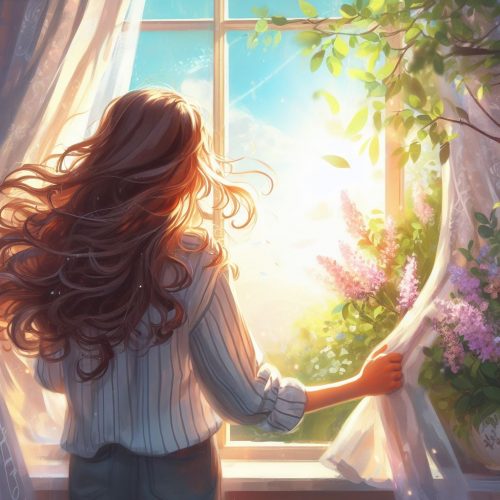 The lyrics depict a fleeting moment of unity, as the singer suggests taking a high leap together through the sky. The imagery involves soaring through the clouds towards a place where dreams reside. Despite the warmth of the wind, there's an acknowledgment that separation is inevitable, and the two will fall like rain. The summer evening is described as piercing the heart, and there's a sense of anticipation for something.
The chorus advises against crying and calling out, implying that no one will hear. Spring is depicted as singing in open windows, but the singer notes the persistent tears in a love that seems solitary.
In the second verse, nighttime is portrayed as a time of suffocation and repeated experiences of dying. The lack of answers and the act of wiping away tears in darkness are highlighted. The singer observes the listener embracing darkness, perhaps finding solace in a place where they can cry without being seen. The mention of the planet being for two people suggests a shared pain of letting go.
The chorus repeats the theme of discouraging tears and calls, emphasizing the isolation felt in the midst of the singing spring. The lyrics evoke a sense of melancholy, separation, and the complexities of unrequited love.
Куплет 1:
На мгновенье вместе прыгнем свысока
Парим сквозь небо мы
В направленье, где ночуют облака
Там прячутся мечты
Тёплый ветер нас разлучит навсегда
Мы выпадем дождём
Летний вечер, ранит сердце, как всегда
Но мы чего-то ждём…
Припев:
Не надо плакать, не надо звать
Никто не слышит тебя опять
В раскрытых окнах поёт весна,
А ты всё плачешь в любви одна.
Куплет 2:
Ночью где-то, задыхаясь в пустоте
Вновь будем умирать
Нет ответов. Ты прижалась к темноте,
Чтоб слёзы вытирать
Ты раздета, но в объятъях не моих,
Там будешь засыпать
Словно дети, вся планета для двоих
Нам больно отпускать…
Припев:
Не надо плакать, не надо звать
Никто не слышит тебя опять
В раскрытых окнах поёт весна,
А ты всё плачешь в любви одна.