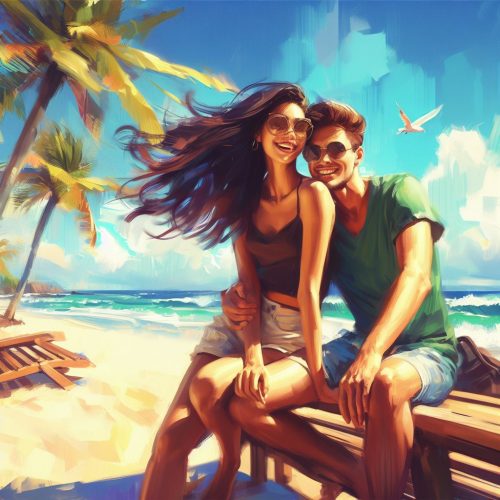 The song describes the atmosphere of a summer day, capturing the essence of warmth, nature, and romance.
In the first verse, the lyrics depict the sky immersed in blue waves, symbolizing the beauty of the summer sky. The imagery continues with the mention of salty lips and a passionate kiss, emphasizing the intensity of a warm, summer romance. The vibrant colors of nature are highlighted, with the sunset reflected in the eyes of the person being addressed.
The chorus emphasizes the sensory experience of summer, invoking the scent of the season, the joy of dancing under the moon, and the happiness of waking up together. The phrase "Этим летом, Нашим летом с тобой" (This summer, Our summer with you) reinforces the idea of a shared, special summer experience.
The second verse maintains the vivid imagery, introducing warm sand and playful winds. The wind is personified, suggesting a desire to rest in the person's hair. Barefoot running towards the horizon and gazing into the infinite distance evoke a sense of freedom and adventure.
Overall, the song captures the sensory delights of summer, blending nature, romance, and a carefree spirit. The repetitive chorus adds emphasis to the theme of shared experiences and the unique quality of the summer being described.
Куплет 1
В синих волнах
Купается небо
На солёных губах
Жаркий твой поцелуй
В ярких тонах
Природа одета
И закат на глазах
Отражается твой
Припев:
Запах лета
Танцевать под луной
Просыпаться с тобой
Этим летом
Нашим летом с тобой
(2 раза)
Куплет 2
С тёплым песком
Играется ветер
И в твоих волосах
Он захочет уснуть
Бег босиком
Горизонту навстречу
В бесконечную даль
На край света взглянуть.
Припев:
Запах лета
Танцевать под луной
Просыпаться с тобой
Этим летом
Нашим летом с тобой